Welcome Baby Joshua!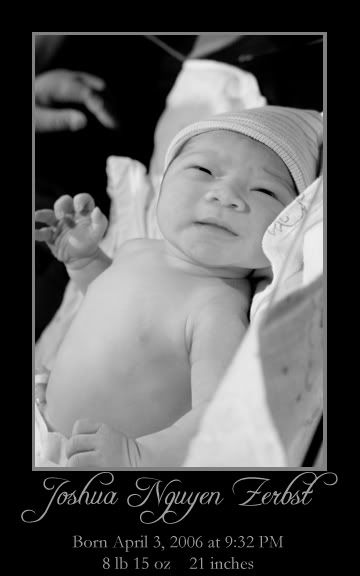 Rosie called this morning to let me know they were checking in to the hospital to prepare to have the baby. She was so pleased that he had decided to come on his own instead of being induced on Tuesday.
After progressing quickly and being relieved to receive her epidural, things slowed down quite a bit and Rosie & Dave didn't get down to business until about 7:30.
Rosie was so tired, but she toughed it out and Dave was right there with her the whole time, encouraging her and helping her along as much as possible. Joshua was born at 9:32PM. He has a head full of long black hair and was such a "rosy" pink color. The whole experience was just a miracle.
Click here for the slideshow. The show has music, and it's kind of rock & roll (like Dave & Rosie) so you might watch the volume if you're at work.