After the storm...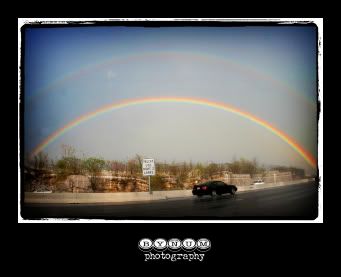 Yesterday's storms brought lots of damage to much of the greater Nashville area. I spent the afternoon at my Mom's, helping her pack in preparation for her move next week. After waiting out most of the storms, I ventured home, just in time to see this on I-24E around LaVergne.
You're probably not aware of the significance of end-to-end rainbows to our family, but they are very special. We used to travel a lot with my grandmother (Mom's Mom) and on the last trip we took together, we saw an end-to-end rainbow for the first time. It was awesome. When my grandmother passed away unexpectedly, it was a big loss to our family. The next trip we took, we saw another rainbow, and it just warmed our hearts because we felt a special connection with her.
The decision that my Mom had to make to sell part of her family's property was a very difficult one. We spent some time talking about this yesterday while we were packing. When I saw that rainbow on my way home, I couldn't wait to call my Mom and tell her, and she was looking at it too from her house. I said - maybe that's your sign that this was a good decision, and that your Mom knows and it's okay.
And maybe it was just the way the water and the sun and the clouds all worked together at that moment, but it brings comfort to us to remember her and to know that we will see her again one day.